5 октября 2019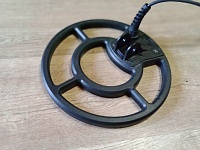 Nowadays AKA company provides two main types of searching coils: mono coil and DD coil. The company renews production and implementation of supposedly outdated 8 inch mono coils at the buyer's requests.
Advantages of 8 inch mono coil
8 inch mono coils stopped selling many years ago. They were replaced by effective DD models which were recognized not only by russian, but also by world specialists. However, buyers do not stop being interested in outdated variants for several reasons:
Mono coils work more exactly at heavily littered areas. DD variant may just not react.
Generally, there is overall higher sensitivity. Location of small objects and also around the perimeter is set more precisely.
It is easy to find the center of a large target when using DD variant have to dig up the ground with an error of up to half a meter.
The weight is less than DD coil. Hands do not get tired of long work. Heaviness of DD coil is felt during a long search for values.
The first advantage-the main reason why treasure hunters support mono coil return. It provides deep search creating a cone-shaped magnetic field. Territory of any trash is accessible.
DD models are good in surface field distribution and less prone to errors in mineral soils. Also they better probe heavy soil. But when heaps of rubbish are scattered, innovative coils are powerless.
Where 8 inch mono coils are used
By lovers of unusual finds on the trash to find valuables among the trash. Mono coils are perfect in such cases.