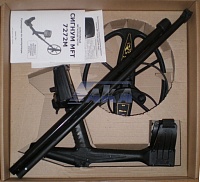 Every beginner faces the issue of choosing a metal detector. Nowadays there is a huge selection of devices which have various specifications. Metal detectors vary in price, purpose and they are divided into 3 levels: entry, semi-professional and professional.
Every treasure hunter is limited during time search. It is necessary to make object indentification quickly and efficiently, especially when there are a lot of metal rubbish then decide on the extraction of targets from the ground.
Professional models have a huge advantage over models with simple features.

Firstly, professional level devices have maximum target detection depth. It lets to detect objects which can miss entry and semi-professional levels devices. Of course, the device can make a mistake and do not distinguish ferrous or non-ferrous metal at maximum depth. What matters here is target size, iron oxides etc. Many search engines in "promising places" dig all signals etc.
Secondly, this metal detectors have improved discrimination. Thanks to that, search quality increases. Devices are more accurate during the search. Experienced search engine can judge about possible find with greater certainty.

Thirdly, "pro" class metal detectors work effectively on complex soils by changing the settings. Some professional devices, for example by the manufacturer AKA. They effectively identify goals.
Fourthly, target response speed of professional devices allows treasure hunter to distinguish between ferrous and non-ferrous metal objects which are located close to each other. This advantage plays the role in littered areas. Quick response helps more accurately determine the location of the target.
The fifth and the most important priority when choosing a device is experience. Treasure hunter who will learn to work with a professional device and will learn how to understand it, will get an edge and will not to be left without finds. Not the device but its owner searches. Decision to extract finds from the earth takes search engine. The operator will be able to conduct search operations more efficiently and always will get a positive result learning to understand his metal detector. Professional level metal detectors work efficiently in any places. It is necessary only to pick up search coil. Large coils are used in the fields but on the foundations are effective sniper coils that find coins among metal debris etc.