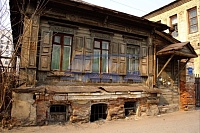 Search in the attic occupies a special place in the search for hidden treasures. Finds in the attic are well-preserved because they are not exposed to the environment. This type of search is relevant at any time of the year and especially in winter when frozen ground does not allow you fully engaged in instrument search. The search must be carried out with extreme caution due to the large number of protruding rusty nails, rotten boards. You should carefully move between beams and ceilings for safety.
The most optimal search option is old attic of your house-it is ideal. You can arrange to search in the attics of your acquaintance or friends. If it is not a familiar person, then you can draw up a contact with a tenant of the house but this option can not always be implemented.
Attics are dusty and poorly lit. They are a promising place to search for various antiques, coins and hidden treasures. To organize an effective search you need to take following accessories: flashlight or headlamp, headband or respirator (dust protection), metal detector (shortened version equipped with a sniper coil is better), overalls, construction glasses (eye protection from various objects and dust), shovel or small rake to extract finds, cap.

Finds in old attics can be divided into 3 categories: antiques, tabs, lost things. To ancient things include elements of everyday life of past years etc. To the lost things include various coins and small things that were lost in the backfill. Coins often fell out of pockets while moving through the narrow space of the attic. Tabs were made in troubled times when it was necessary to hide especially valuable things. It was a period of change of eras, revolutions etc.
What promising places can be identified during searching with a metal detector?
The first thing to check is backfill. It can be check with metal detector necessarily with small coil to identify signals. Rusty nails can cause false positives. Experienced treasure hunter can easily miss such signals. The preservation of coins in the backfill is very good. Such finds will be of great value in the sale or take their rightful place in your collection.
The second thing to see in the attic is various rubbish: old things (they can also be checked with a metal detector), newspapers and many other useful things that can be valuable to treasure hunter. They are always in demand in the antiques market.
The third place is the roof and boards that need to be checked carefully. It will be necessary not only a visual inspection here but also the help of a metal detector. In between the planks there may be valuable finds hidden by the owner of the house.
The fourth place during the search is the chimney which must be carefully examined. You should check the brickwork, its integrity, be sure to use the device to detect metal objects.
Thus, a search with a metal detector in the attic is of particular interest to a treasure hunter. It is always associated with a certain risk, therefore it is important to observe safety precautions. Attention and careful inspection of priority areas are important here. It is important to remember – only persistent persons are lucky!